Beijing Competition with BIRTV

1 General Introduction
The Gaia48 Film Festival by Zunzheng emphasizes placing the spotlight back on the filmmakers, creativity and teamwork, with a motto that doing is always more than just talking.
To create an as-perfect-as-possible short film with limited time and a limited budget is the greatest challenge of a 48-hour short film project. Each contestant, either a director or a writer or a cinematographer, is required to transfer the collective effort of the team into an intriguing story and a piece of art. The goal is to make the impossible possible, to turn the stone into gold.
And as an audience, it\'s your place to find the very filmmaker who can convey the story of your growing company and your brand and spread your idea to the world.
Finishing a movie within a short time, and a small amount of money - It\'s the best film school you can find, where you can experience the whole workflow of a production.


2 Host - Main Sponsor - Organizer
Zunzheng Digital Video Co.,Ltd

3 Rundown
The Beijing competition sets in Hall 5 of BIRTV on Aug. 2, 2018. No matter who you are, as long as you have the zeal for making a great film, you are invited to join us.
Step 1. Register and log in here (https://gaiamount.com/gaia48)
Step 2. Complete application form here (//gaiamount.mikecrm.com/6AMW2wt), designation elements will be revealed on BIRTV.
Step 3. Finish the film within 48 hours, submit it before deadline.
Aside from the crazy ride of making a short film with your teammates within 2 days, the highlights of Gaia48 also includes all of the latest product and technology display from international manufacturers, especially the 8K HDR work flow brought to you by Zunzheng.

4 Schedule
4.1 Registration/Application: Jul. 05 - Aug.15, 2018
4.2 Bootcamp Seminars: 10 a.m - 12 p.m, Aug. 22
4.3 48-hour Production
4.3.1 Drawing Designated Elements: 2:00 p.m, Aug.22, 2018
(Participants need to draw the designated elements on-site)
4.3.2 Filmmaking: 3:00 p.m, Aug. 22 - 3:00 p.m, Aug. 24, 2018
4.3.3 Submission Deadline: 3:00 p.m, Aug. 24, 2018 (Please finish your uploading by this time)
4.4 Film Appraisal and Award Ceremony
4.4.1 Online Screening: Starting from 12:00 p.m, Sep. 5, 2018
4.4.2 Award Announcement and Presentation: 2 months after the competition

5 Requirements on Entries
Every participating team will draw one designated topic, one designated line and one designated prop from the pool we have prepared. As the key elements of the films, the designated elements of each team MUST be shown and integrated into the plot of the submitted film, further requirements as below:
1. All submitted film will have to start with the official Gaia48 title sequence, download the official Gaia48 title sequence here: (https://gaiamount.com/gaia48/other-download);
2. File naming format: team number_film title_designation number(the number you drew), eg: No.001_Convergence_Bc3;
3. The resolution should NOT be lower than 1920*1080;
4. The duration (including title sequence and closing credits) should NOT be longer than 8 minutes, file size should NOT be larger than 1Gb;
5. Proper synopsis and subtitle in both Chinese and English are REQUIRED in order to allow the all the judges, home and abroad, to understand the plots and score it accordingly;
6. The story needs to be positive and instructive, with visual and aesthetic value. The image of the film needs to be of decent quality with no excessive pixelation or noise;
7. We recommend using codec H.264. The file format should be MOV or MP4;
8. A digital poster needs to be submitted along with the film. Download the mandatory poster template here (https://gaiamount.com/gaia48/other-download);
9. An information form needs to be completed and submitted along with your film. Download the information form here (https://gaiamount.com/gaia48/other-download);
10. All submitted films MUST be shot and produced during the time from 3:00 p.m, Aug. 22 to 3:00 p.m, Aug. 24, 2018, and MUST NOT be uploaded or shown on any other online platform or media before our award presentation. Once we found any form of rule violation or plagiarism, the team will be disqualified immediately.
11. All entrants MUST finish submitting their films by 3:00 p.m on Aug. 24 (Fri), 2018. All films submitted after the deadline will be disqualified. And here is our cordial advice to all entrants: completion goes before perfection;
12. No commercial advertising, website links or any forms alluding to them can be
shown in the film; no information of the contestants can be shown in the film except the credit list. Otherwise, the entry will be disqualified.

6 Panel of Judges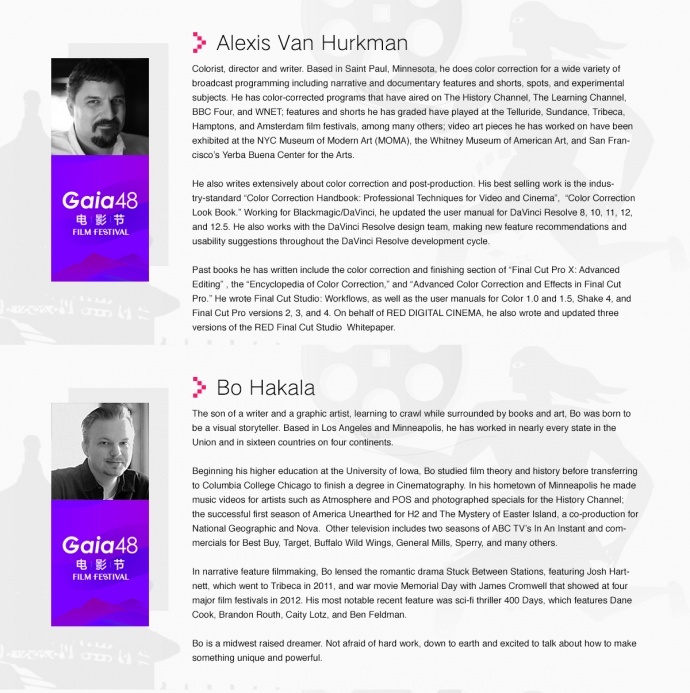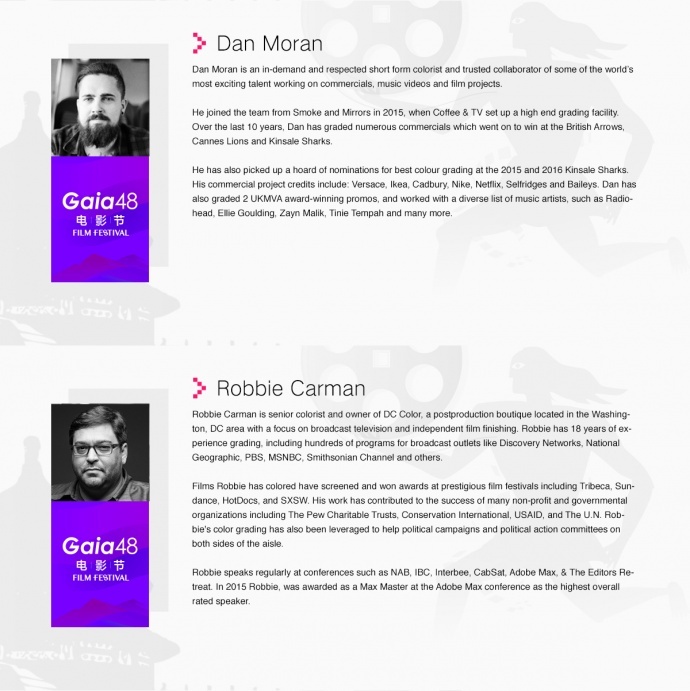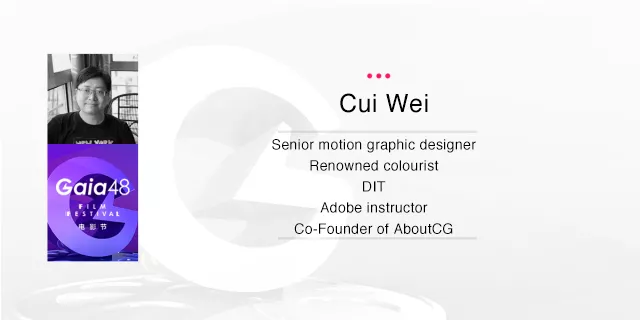 7 Awards and Prizes
There will be 3 nominations for every award. The entry with the highest score for each award will be the winning film. Awards and prizes are listed below:
7.1 Best Screenplay with a prize of 10000CNY;
(In order to apply for the Best Screenplay Award, submit the script of the film along with the entry by 3:00 p.m, Aug. 24, 2018)
7.2 Best Cinematography with a prize of 10000CNY;
7.3 Best Editing with a prize of 10000CNY;
7.4 Best Visual Effects with a prize of 10000CNY;
7.5 Technology Award with a prize of 10000CNY;
(In order to apply for the Technology Award, submit a workflow report of the film production. The workflow should be advanced and with latest filmmaking technology.)
Every entry will only be presented with one award. A film will be presented with the highest ranked award if winning multiple awards.

8 Application and Participation
8.1 Online Application
Register and log in here (https://gaiamount.com/gaia48), find the application button on the dock of the page, complete the application form and submit. Application deadline: Aug. 15, 2018.
8.2 Pre-contest Bootcamp
The outstanding teams of the Shenzhen Competition will share their experience of the competition and thoughts with you. Their guidance and advice will help you with practical problems you may run into during the 48-hour production. Time: 10 a.m - 12 p.m, Aug. 22.
8.3 Arrival in Beijing
All entrants need to arrive at Zunzheng's booth in Hall 5 of BIRTV Expo by 1:30 p.m on Aug. 18, 2018. Drawing designation elements will start at 2:00 p.m. Locations to finish the later process of the production (including writing, filming, editing, grading, finishing and submission) is up to the entrants' choices.
8.4 Submission
All entrants MUST finish submitting their films by 3:00 p.m on Aug. 20(Sun), 2018. All submissions after the deadline are ineligible for any awards. We will upload all the qualified entries here (https://gaiamount.com/ Gaia48) for the appraisal.
8.5 Appraisal for Various Awards
The judges of Gaia48 Film Festival will assess the qualities of the entries and decide for awards for Best Screenplay, Best Cinematography, Best Editing, Best Visual Effects and the Technology Award. The appraisal will finish within 2 months.
8.6 Announcement
8.6.1 We will announce the award winner on the Gaia48 web page 2 months after the competition.
8.6.2 All nominated films are eligible for the 2018 Gaia48 Annual Award. We will announce the Annual Award Winner at the annual award ceremony, which sets after the 2019 Chinese New Year.

9 Copyright and Disputes
9.1 Every team collectively owns 80% of the copyright of their submitted film. The organizer of Gaia48 (Zunzheng Digital Video Co.,Ltd hereof) owns 20% of the copyright of each competing film.
9.2 Gaiamount has the right to advertise, publicize and display every competing film, and will facilitate the transaction of the film.
9.3 Once the film is submitted, it will be deemed that all the members of the participating team agree and voluntarily comply with the related rules of the competition. If there is a copyright dispute in the process of display and dissemination of the work, Gaiamount does not assume legal responsibility for the infringement of the rights of the work by another person (or party), and its legal responsibility shall be borne by the participants.

10 Contact Us
Tel: 0755-86391800
QQ: 2851731535
Weibo: @Gaiamount
WeChat Public Account: Gaiamount
IPhone Application: Gaiamount
Zunzheng Digital Video Co.,Ltd reserves the right of final decision on the interpretation of these terms and conditions.